Aquamarina – New luxury villas in La Duquesa, Manilva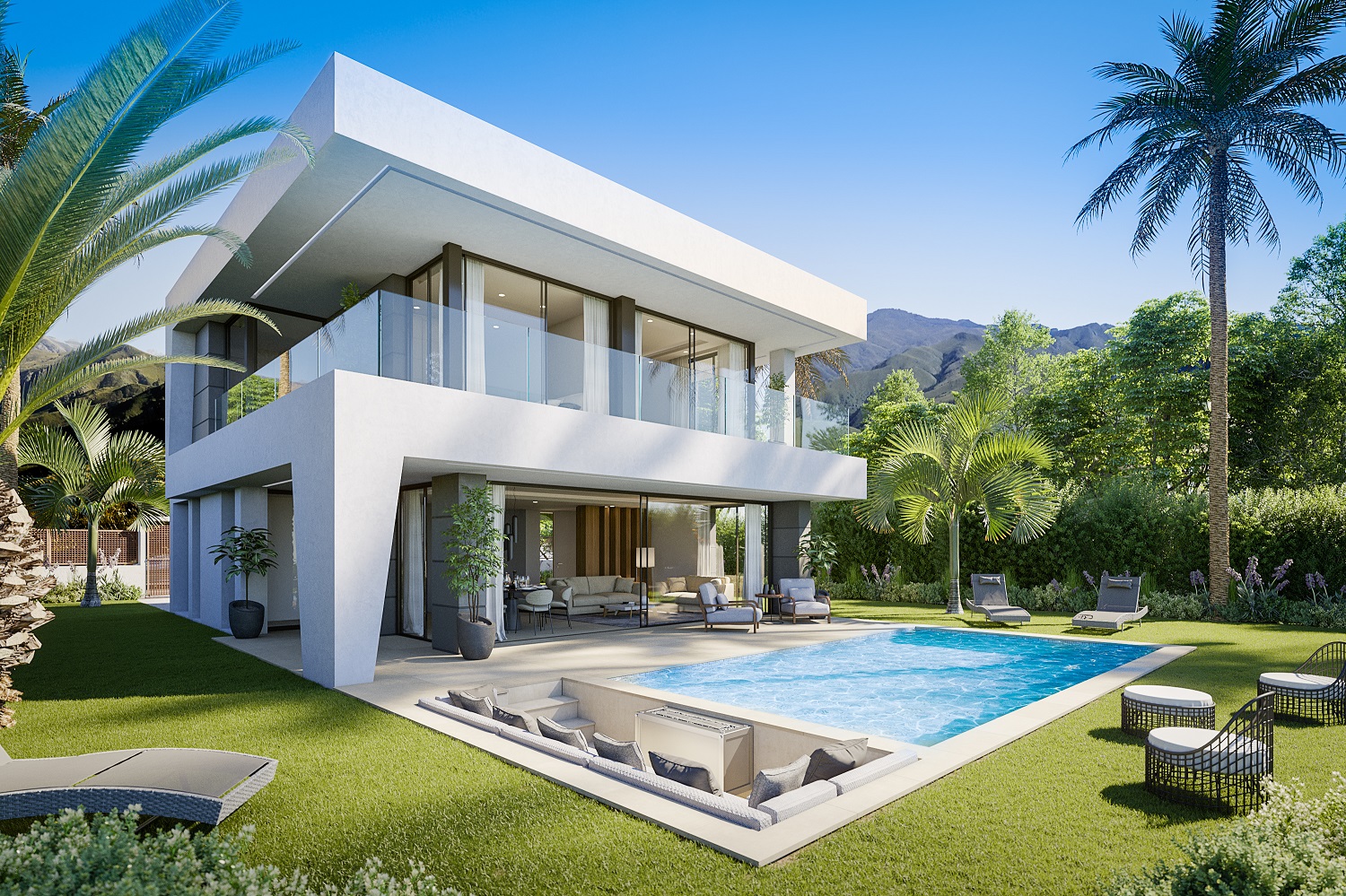 ♦  Modern contemporary design by esteemed architects
♦  Open plan style
♦  Three or four bedroom options
♦  Private terrace, garden and pool
♦  Sea view
♦  Walking distance to the beach, supermarkets and restaurants

♦  Interior personalisation options
♦  Fully equipped kitchen with top end appliances
♦  Neutral, light, bright interiors
♦  Fitted Wardrobes
♦  Hot and cold air conditioning
♦  Private parking
SOLD OUT MAY 2021
The Aquamarina villas
New south facing luxury villas with sea view in La Duquesa.
The design of these villas is modern and fresh. The horizontal lines, parallel to the sea, create a symmetrical shape, while the vertical lines break and give movement to the villa. Set on 2 levels, this spacious Costa del Sol villa is going to be built using only the finest materials throughout. Every single element, starting from the architecture that gives shape to the building up to the smallest design details, pursues the same philosophy and uses the same language. All the qualities we use into our houses are of the highest standards.
The design of this villa seeks to maximize the indoor-outdoor flow that is so essential for Mediterranean lifestyle.
The Aquamarina villas will be located in Los Hidalgos, La Duquesa with walking distance to supermarkets, restaurants, the beach, the fishing village Castillo de la Duquesa and the marina Puerto de la Duquesa.
Price per villa 750000 euros
Rental potential for villas in Aquamarina
Vacation rental is very good for this villas since it is difficult to find comparable villas for vacation rental in the area. There are very few contemporary villas for rent on Costa del Sol, especially with walking distance ameneties and the beach. It is also possible to customize the villas and make them even more attractive to rent, for example heat up the pool in the winter, with solar panels. If you are interested in a villa for investment and vacation rental, you are welcome to contact Björn Ingbrant at bjorn@enovaestates.com and he will help you to make your villa stand out and market it.
Enova Estates have full service for vacation rental properties.
Aquamarina villas location
Address:
Manilva Beach II Local 7,
29692 La Duquesa, Manilva,
Malaga, Spanien.
GPS: 36°20'43.1″N 5°14'11.7″W
https://goo.gl/maps/W24tFDz3Ao92
Welcome to contact us for more information and floor plans:
bjorn@enovaestates.com
Tel: 0034 669 807 133
Other new luxury properties